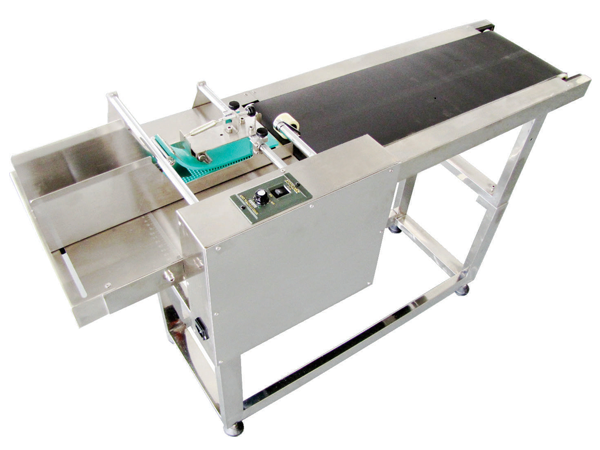 NMS
NMS Mini Conveyor (with Friction Feeder)
---
The NMS Mini Conveyor with Friction Feeder
Works with:
All RN Mark Inline inkjet coders
Other brands of Inline Stationary industrial printers
This small conveyor with Friction Feeder is a entry level system for automated inkjet coding. It prints on sheet packaging such as, flat paper/cardboard boxes, bags, sleeves, cartons or other thin, flat packaging. It is the affordable next step above our handheld inkjet coders. Used by companies who want to pre print lot codes/batch codes/expiry dates/best before dates directly on packaging. 
Features:
Variable Speed Control: 49-65 feet/min (15-20 m/min)
Belt width: 79.25" (235 mm)
Sheet Material sizes: Length 2"-12.5", Width 2.3"-11, Thickness .02"-.2"
ESA Approved (Electrical Safety Authority)
Electrical: 110V – 15A – 60 HZ – 1 Ph
Markets and Applications using:
Food, Condiments and Beverage Packaging
Contract Packaging
Medical
Pharmaceutical
Health, Beauty & Cosmetics
Use with these models:
Click for Brochure here.
---
Share this Product
---
Related Products