---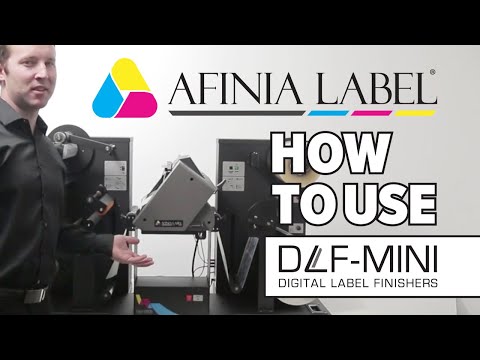 The Afinia DLF-140S is great for creating Die Cut labels in any shape or size, up to 4.8" wide.
 -- Contact us 1-800-268-7636 for buying label finishers and colour label printers in Canada --
The Afinia DLF-140S Mini Digital Label Finisher allows you to cut any shape digitally. Ultra-precise cutting abilities easily produce beautiful full-bleed labels without a need for costly dies.
Unwind, laminate, contour cut, remove waste, slit, and rewind in one simple process to create professionally-finished labels. These solutions are perfect for on-demand, short-run label finishing.
FEATURES
Tabletop consolidated form factor
Plotter-cut from a digital file (no dies)
Ideal for short runs & proofing
Works with pre-printed rolls
Volume: Low-Medium (highly versatile)
Finishing Speed: Artwork-dependent
Operating System: Windows
Max Roll Diameter: 7.87 in (200 mm)
Max Roll Width: 5.5" (140mm)
Max Cut Width: 4.8 in (122 mm)
Cutting Method: Plotter-style (digital)
Up to 6 Slitting Blades
WARRANTY:  One Year
SKU: 32295
*Image depicts the DLF-220S. The DLF-140S is the narrower version of this label finisher. 
PRODUCT OVERVIEW
The DLF-140S (max width 140mm/5.51" ) and DLF-220S (max width 220mm/8.8") are small-footprint versions of our full-size label finishers. With this compact plotter-style label finishing system, cut paths can be varied as often as desired, giving users the flexibility to create any label shape, on the fly. A digital cut file guides the DLF's plotter as it converts uncut, continuous-printed media into fully-finished labels, ready for application.
---
Share this Product
---
Related Products