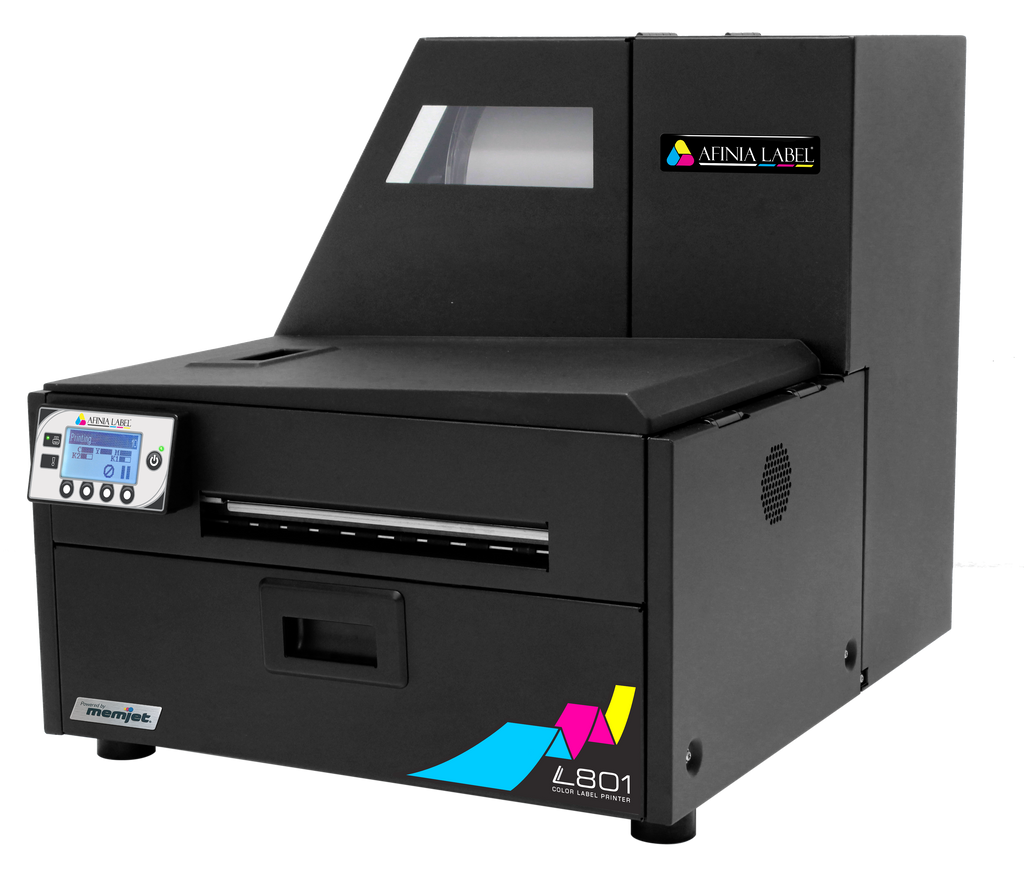 Afinia
Afinia L801 Desktop Color Label Printer
---
Afinia L801 Memjet Desktop Color Label Printer is great for printing on
Beverage Container Labels (bottles, cans, jars),
Food Packaging Labels (boxes, bags, trays, tubes),
Cannabis Labels (boxes, tubes, jars, micro vials)
Medical/Pharma Labels (cartons, jars, bottles),
-- Contact us 1-800-268-7636 for buying colour label printers in Canada --
Ink Palette:

Shop for the Afinia L801 Printhead here
Shop for the L801 Wiper Roller here

Shop for the Afinia XL Rewinder 29110 here
Shop for the Afinia XL Unwinder 26681 here
Shop for the Afinia Standard Rewinder here
Features:
Print speed: 6 -12 inches per second (152 mm - 305 mm) 
Print width: Up to 8.5" (216 mm) material
Print resolution: 1600 x 1600 dpi (low speed) - 1600 x 800 dpi (high speed)
Ink type: Dye, 250ml
Cutter/sheeter: Powered
Print method: Memjet Waterfall Printhead Technology® – 70,400 nozzles
Operating system: Windows only
High-volume printing
Fast print speeds
Super low ink costs
Water-resistant inks available
Service Plans available:

Hot Swap
Onsite Service Year One
Onsite Service After Year One
Extended Warranty Year Two
Extended Warranty Years Two and Three
Warranty: 1-year depot repair
Training videos for L801 Plus here
SKU: 23139
Product Overview:
Minimize ongoing ink costs
Cost per label should be as important as printer cost when investing in a label printer. These ongoing costs are minimized by the L801's industry-leading ink cost, which can be easily calculated using the included software. It holds 1.25 liters of ink to support large runs, and has easy-access doors for fast and simple media and ink replacement. An optional powered rewinder makes printing to finished rolls simple.  
Memjet Waterfall Technology
The L801 Industrial Color Label Printer is a digital label printer that uses Memjet technology, allowing you to print high-impact, full-color output at up to 60 ft/min (18 m/min). Memjet's stationary "waterfall" printhead technology allows paper to move quickly through the printer, while maintaining excellent print resolution.
High quality & resolution
Using the L801 industrial color label printer, you can print at up to 1600 x 1600 dpi for vivid, eye-catching labels. By using CMYKK (two black ink cartridges), the L801 offers exceptional color and rich blacks, giving you the ability to print with better contrast.
You can send us your artwork to see how much you can save, or see how the L801 has a great return on investment.
Low cost of ownership
Afinia Label Memjet label printers allow you to save on consumables. The L801 holds 1.25 liters of ink to support large runs, and offers an industry-leading low ink cost. 
---
Share this Product
---
Related Products