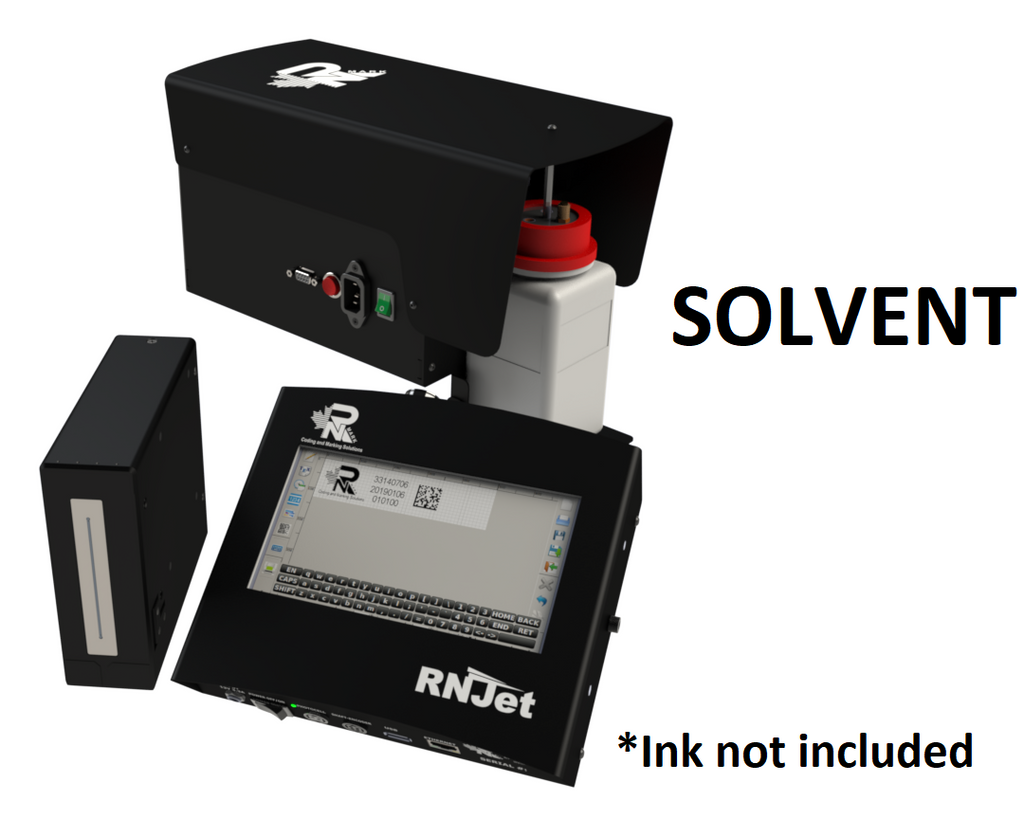 RN Mark
RN Mark RNJet E1-72 SOLVENT Inline Inkjet Printer Kit
---
RNJet E1-72 SOLVENT,
 Large Character, High Resolution, Inline Inkjet Coder 

 has One Piezo Print Head, uses Solvent-based Bulk Ink

and is a great alternative to CIJ (continuous inkjet) printers that offer very low maintenance and low ink costs.

It prints on Non-Porous surfaces:
Metal, Plastic, Glass,

Food Packets (cartons, drink boxes, tubes)

Jars

Cans and Tins

Bottles

Extrusions

Flexible Plastic Film

PVC Pipes

PCB Boards

Metal parts
Used for:
Expiry Dates/Production Dates/Best Before Dates
Lot Numbers
Batch Numbers
Serial Numbers
Logos
Barcodes
-- CONTACT US AT 1-800-268-7636 FOR MORE INFORMATION ON ORDERING RN Mark printers in CANADA --
Features:
Ink Type: Solvent
Ink Colors: Black (white ink available)
Print position: side and downward printing
I/O Ports:

NPN Photocell and Shaft Encoder

Display: 7″ Touch screen controller
Ink Management: Low ink alarm & Ink consumption calculator
No. of Print Heads: 1 (second head optional, see RNJet E1-140 Solvent) 
Technical Data:
Nozzle Technology: Piezoelectric High Res Drop On Demand DOD Print Head
Print Speed: Up to 1000 mm/sec (39"/sec)
Print Height: Up to 72mm (2.8")
Print Length: 1000 mm (39")
Throw Distance: Up to 10 mm ( 3/8")
Drop Volume: 80 pL (Picoliters)
Resolution: 180 dpi
Power: 12V – 3.3A
Operating Temperature: 32°F (0°C) – 113°F (45°C)
Storage Temperature: 23°F (-5°C) -122°F (50°C)
Relative Humidity: 20% - 80%
Controller Dimensions: 176 x 158 x 44 mm (7" x 6 1/4" x 1 3/4")
Print head Dimensions: 65 x 42 mm (2 1/2" x 1 5/8")
Ink Supply Bottles: 490 ml Standard (240ml or 980ml optional)
Net Weight: 2.2 Kg (5 lbs)
Connectivity: USB, RS-232, Ethernet (WiFi optional)
Power supply Certifications: FCC, CE, ICES/GS/US UL/CA UL
See RNjet E1-72 spec sheet brochure here...
This single print head, high-resolution, high speed, small character, industrial, stationary inkjet printer, offers remarkable product coding and marking performance. Using solvent-based inks, it can print text, logos, counters, barcodes, time, and date codes on a variety of porous surfaces with superior print resolution.
The E1-72 operates as both a standalone and a PC based system.
Use as standalone with 7″ touchscreen LCD when used in production. You can simply design and print from the file directly on the screen.
As a PC based system, it can also connect to the network through RS-232, Ethernet, Wi-Fi (optional). So, it can be controlled and operated from anywhere in the production facility.
Easy start-up with bulk system and purge button will help you prevent wasting ink. Bulk could be supplied in 3 different bottle sizes. Ink indicator will help to understand when ink level is low. As an option LED tower light indicators could be integrated as per request.
Why you should consider this printer:
Affordability
Easy of operation
High print speed
Reliable and maintenance-free
Withstands vibrations & temperature fluctuations
Stand-alone operation and PC based
8 Benefits of the RNjet E1-72 Printer
1. Quick set-up – integrates easily into your production line
2. Superior print quality – markings are easy to read & scan 
3. Print anything – graphics, images, logos
4. Print on everything – code & mark any surface
5. Stand-alone or PC operation
6. No downtime – easy & rapid code change
7. Turn-on & start printing – hassle-free operation
8. Very little maintenance – print head stays clean
Part Number: 048-0005-000, RNJet E1-72 Solvent Bulk
---
Share this Product
---
Related Products